AN ANALYSIS OF THE UTILIZATION OF ZAKAH IN CONTROLLING THE COVID-19 PANDEMIC PERSPECTIVE OF MAQASHID SHARIA AT AMIL ZAKAT INSTITUTION IN PAMEKASAN REGENCY
Keywords:
utilization, zakah, maqashid syariah
Abstract
The focus of this research is to examine the utilization of zakat in controlling the covid-19 pandemic which is analyzed through the maqashid sharia approach in BAZNAS and LAZISMU Pamekasan Regency.This research includes field research that uses qualitative methods with qualitative descriptive research properties. The method of data collection using interviews, observation and documentation. Then the primary and secondary data obtained were analyzed using qualitative data analysis with three processes, namely data reduction, data presentation and conclusion drawing.The results of this study that the utilization of zakat in the Amil Zakat Agency (Baznas) and Lazismu Kab. Pamekasan plays a role in controlling the Covid-19 pandemic in Pamekasan Regency by distributing it to three sectors: First, Health, Second, Economy, Third, Education in the form of consumptive and productive. Then the role of its utilization has been in accordance with the objectives of the stipulation of zakat in the aspects of worship and the economy that reaches maqashid sharia.
References
Afkar, Shulhan Zainul. "Potensi Ekonomi Dalam Zakat Dan Wakaf Saham Di Indonesia." Istinbath 19, no. 2 (2021): 399-414. https://doi.org/10.20414/ijhi.v19i2.275.

Agustinova, Eko. Memahami Metode Penelitian Kualitatif Teori & Praktik. Yogyakarta: Calpulis, 2015.
Aibak, Kutbuddin. "Zakat Dalam Perspektif Maqashid Al-Syariah." Ahkam: Jurnal Hukum Islam 3, no. 2 (2015). https://doi.org/10.21274/ahkam.2015.3.2.199-218.

Al-Syatibi, Abu Ishaq. Al-Muwafaqat Fi Ushuli Al-Syariah. Beirut: Dar Al-Kotob AlIlmiyah, 2004.
Badan Amil Zakat Nasional. "Peraturan Badan Amil Zakat Nasional Republik Indonesia Nomor 3 Tahun 2018 Tentang Pendistribusian Dan Pendayagunaan Zakat." Perbaznas No. 3 Tahun 2018, 2018, 14.

EZ, Irfandi, and Nurul Maisyal. "Pendayagunaan Zakat Untuk Penanggulangan Pandemi Covid-19 Perpektif Filsafat Hukum Islam." Al - Muamalat: Jurnal Hukum Dan Ekonomi Syariah 5, no. 1 (2020): 1-26. https://doi.org/10.32505/muamalat.v5i1.1849.

Hasan, Muhammad Thalchah. Islam Dalam Perspektif Sosial Budaya. Jakarta: Galasa Nusantara, 1987.
Hendri, Nedi, and Suyanto Suyanto. "Analisis Model-Model Pendayagunaan Dana Zakat Dalam Pemberdayaan Masyarakat Miskin Kota Di Provinsi Lampung." Akuisisi 11, no. 2 (2022): 63-73.

Ibrahim Jihanullah Munandar, Ikhwan Hamdani, Sofian Muhlisin. "ANALISIS PENDAYAGUNAAN DANA ZAKAT PRODUKTIF DALAM PENGEMBANGAN EKONOMI MUSTAHIK DI BAZNAS KABUPATEN BOGOR." Jurnal AKRAB JUARA 7 No 3, no. Agustus 2022 (2022): 327-37.

Indonesia, Fatwa Majelis Ulama. "Fatwa Majelis Ulama Indonesia Nomor: 23 Tahun 2020 Tentang Pemanfaatan Harta Zakat, Infak, Dan Shadaqah Untuk Penanggulangan Wabah Covid-19 Dan Dampaknya," 2020.

Kadir, Afifuddin, Miftahur Rahman Hakim, Fahmi Syam, and Murdiansah SA Karim. "Pengunaan Dana Zakat Pada Korban Covid-19 Perspektif Maqashid Syariah." Al- Tafaqquh: Journal of Islamic Law 1, no. 2 (2020): 107. https://doi.org/10.33096/al- tafaqquh.v1i2.61.

M. Hasan. Manajemen Zakat: Model Pengelolaan Yang Efektif. Yogyakarta: Idea Press, 2011.

Marlina, H Busaini, and Muhammad Irwan. "Pemahaman Zakat Di Kalangan Pengusaha Rumah Makan Di Kota Mataram." Jurnal Hukum Islam 17, no. 1 (2018): 1-19.

Muchlas, Imam. Tafsir Maudhu'i, Mimbar Pembangunan Agama. Jawa Timur: Kementerian Agama, 1997.

Muhammad Syafi'i Antonio. Bank Syariah Dari Teori Ke Praktik. Jakarta: Gema Insani, 2011.

Mutakem, Al. "Pengaruh Pendayagunaan Zakat Produktif Dan Pembinaan Usaha Terhadap Pendapatan Mustahiq Di
Baznaz Kota Dumai." Tafidu Jurnal Vol.1 No.4, no. 4 (2022): 302-12.

Rois, Ihsan, and Muh. Salahuddin. "DSN-MUI Economic Fatwa in Indonesia's Socio- Economic System (Maqashid Shariah Analysis System Approach)." Istinbáth Jurnal Hukum Dan Ekonomi Islam 20, no. 1 (2021): 91-106.

Sugiyono. Metode Penelitian Kuantitatif, Kualitatif Dan R&D. 12th ed. Bandung: Alfabeta, 2012.

Supriadi, Udin, Wawan Hermawan, Risris Hari Nugraha, Mohammad Rindu Fajar Islamy, The Implications, I N Responding, and T O The. "Conceptual Analysis of Maqãshid Syari'Ah Abdul Athî and the Implications in Responding To the Social Phenomenon of Ta'Arruf Online." Istinbath Vol. 20, No. 2 (2021): 386–410.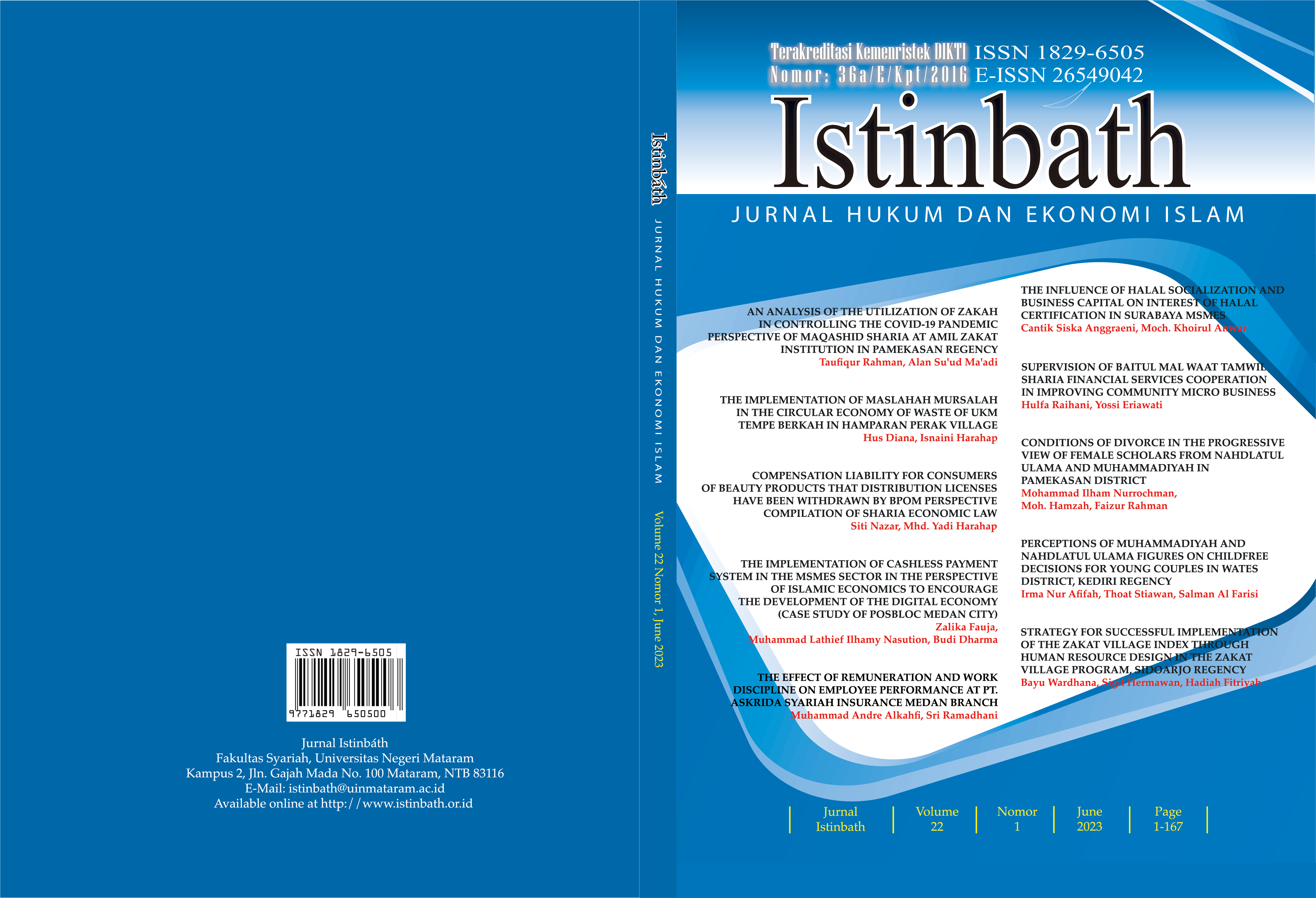 Downloads