THE IMPLEMENTATION OF CASHLESS PAYMENT SYSTEM IN THE MSMES SECTOR IN THE PERSPECTIVE OF ISLAMIC ECONOMICS TO ENCOURAGE THE DEVELOPMENT OF THE DIGITAL ECONOMY (CASE STUDY OF POSBLOC MEDAN CITY)
Keywords:
cashless, islamic economics, msmes, digital economy
Abstract
The development of the digital economy presents new, increasingly diverse financial service products. One of them is non-cash payments or cashless payments, which are the latest innovations and are increasingly prevalent in buying and selling payments to MSMEs. This study aims to find out how the Cashless system is implemented in the MSME sector in the city of Medan, then to find out how the Islamic economic perspective is in implementing the Cashless payment system. This study uses a qualitative research method with data collection techniques, namely by observation, interviews, documentation on the UMKM posbloc in Medan city as well as a study of the literature to be analyzed with the author's observations to answer the formulation of the problem on this problem. The results of this study show that the Cashless system used by the Medan city posbloc is in several ways, namely debit cards, credit cards or by scanning the QRIS code (Quick Response Code Indonesian Standard). APMK (Payment using a card) or with a QRIS scan which has been promoted by Bank Indonesia provides convenience in making transactions with a cashless system without cash more efficiently and effectively. According to the Islamic economic perspective, QRIS is permissible because there is no usury in buying and selling payments to MSMEs. However, there are still a number of obstacles in the implementation of the cashless posbloc payment system in Medan city, one of which is the internet which is not stable enough, and the lack of outreach.
References
Aini, Qurotul, Untung Rahardja, and Anggy Fatillah, 'Penerapan Qrcode Sebagai Media Pelayanan Untuk Absensi Pada Website Berbasis Php Native', Sisfotenika, 8.1 (2018), 47, https://doi.org/10.30700/jst.v8i1.151

Aisyah, Siti, Niken Rahmadyah, Nia Andriani, Deby Novriansyah, and Elsa Mayori , Amelia Putri, 'Implementasi Teknologi Financial Dalam Qris Sebagai Sistem Pembayaran Digital Pada Sektor Umkm Di Kota Binjai', Pengabdian Kepada Masyarakat, 3.1 (2023), 102–6

Anis, Dita, Moh Musfiq, Universitas Islam, and Negeri Sunan, 'Cahsless Society Di GoPay : Ekonomi Islam Perspektif', 3.2 (2020), 141–58

Asep Zakariya Ansori, Moh, 'Efektivitas Pembayaran Non Tunai (Cashless) Pada Bump Pesantren Modern Ummul Quro Al-Islami', Ad Diwan, 1.1 (2021), 1–14, https://doi.org/10.51192/ad.v1i01.132

Bank Indonesia, 'Bank Indonesia E-Money', E-Finance, 11/12/PBI/ (2009), https://www.bi.go.id/elicensing/helps/PBI_111209-Emoney.pdf

Diani, F, and F A Lubis, 'Analisis Implementasi E-Katalog Terhadap Perkembangan UMKM Di Kota Medan Dalam Mendukung Kemajuan Ekonomi Syariah', Jurnal Ilmiah Ekonomi Islam, 8.02 (2022), 1970–81

Firdaus, Muhammad Ridwan, 'E-Money Dalam Perspektif Hukum Ekonomi Syariah', Tahkim, 14.1 (2018), https://doi.org/10.33477/thk.v14i1.613

Fitria, Tira Nur, Yuwita Ariessa Pravasanti, Iin Emy Prastiwi, Institut Teknologi, Bisnis Aas, Saran Fitria, and others, 'Transaksi Menggunakan E-Wallet : Bagaimana Perspektif Ekonomi Islam ?', Jurnal Ilmiah Ekonomi Islam, 8.02 (2022), 1816–22

Ilhamy, Muhammad Lathief, 'Strategi Pemberdayaan UMKM Sektor Peternakan Ayam Organik (Studi Pada Koperasi HidaSyah Sumatera Utara)', Human Falah, 5.2 (2018), 293–312

Kumala, Sindy Lita, 'Perkembangan Ekonomi Berbasis Digital Di Indonesia', Journal of Economics and Regional Science, 1.2 (2022), 109–17, https://doi.org/10.52421/jurnal-esensi.v1i2.190

Kusuma, Hendra, and Wiwiek Kusumaning Asmoro, 'Perkembangan Financial Technologi (Fintech) Berdasarkan Perspektif Ekonomi Islam', ISTITHMAR : Jurnal Pengembangan Ekonomi Islam, 4.2 (2021), 140–62, https://doi.org/10.30762/itr.v4i2.3044

Mayasari, Mega, Arniati Arniati, Supardianto Supardianto, Anisha Rizka Femilia, Helya Amalia, and Rizka Desvaneli, Kajian Literatur Cashless Payment Dan Desain Sistem Informasi Satu Code Untuk Semua Pembayaran, JURNAL AKUNTANSI, EKONOMI Dan MANAJEMEN BISNIS, 2022, X, https://doi.org/10.30871/jaemb.v10i1.4252

Muafiah, ANndi Firdha, 'FENOMENA CASHLESS SOCIETY DI ERA MILENIAL DALAM PERSPEKTIF ISLAM', Al-Musthofa: Journal of Sharia Economics, 8.5 (2019), 55

Mubarak, Dzakisyah Alyus, Muhammad Heru Akhmadi, and Erlita Nurma Wati, 'Implementasi Sistem Aplikasi Pembayaran Digital Payment Dalam Pelaksanaan Pembayaran Berbasis Cashless Di Masa Pandemi Covid-19', Jurnal Manajemen Keuangan Publik, 6.2 (2022), 115–22, https://doi.org/10.31092/jmkp.v6i2.1699

Mufidah, Zahra Aulia, and Rachmad Risqy Kurniawan, 'Electronic Money Sebagai Alat Transaksi Dalam Pandangan Islam', Ulumul Qur'an: Jurnal Ilmu Al-Qur'an Dan Tafsir, x (2022)

Nengsih, Novia, 'ANALISIS TERHADAP FATWA DEWAN SYARI'AH NASIONAL MAJELIS ULAMA INDONESIA (DSNMUI) TENTANG UANG ELEKTRONIK SYARIAH (Studi Kartu Flazz BCA, Go-Pay, Dan Grab-Pay)', Jurisdictie, 10.1 (2019), 56, https://doi.org/10.18860/j.v10i1.6594

Paramitha, Dyah Ayu, and Dian Kusumaningtyas, Qris, 2020, http://repository.unpkediri.ac.id/2959/1/EDIT BUKU DIAN_OK.pdf

Permana, Teguh, and Andriani Puspitaningsih, 'Studi Ekonomi Digital Di Indonesia', Jurnal Simki Economic, 4.2 (2021), 161–70, https://doi.org/10.29407/jse.v4i2.111

Prastyaningtyas, Efa Wahyu, Nila Dwi Aprilia, Surryanto Djoko Waluyo, Herlina J R Saragih, Ekonomi Pertahanan, Fakultas Manajemen Pertahanan, and others, 'Perkembangan Ekonomi Digital Indonesia the Development of Indonesia ' S Digital Economy', Jurnal Lentera Bisnis, 1.2 (2018), 245–59

Sari, Nurul Amalia, 'Pengaruh Perkembangan Ekonomi Digital Terhadap Pendapatan Pelaku Usaha Umkm Di Kota Makassar', Journal of Chemical Information and Modeling, 53.9 (2019), 1689–99

Sihaloho, Josef Evan, Atifah Ramadani, and Suci Rahmayanti, 'Implementasi Sistem Pembayaran Quick Response Indonesia Standard Universitas Sumatera Utara (1)(2)(3)', Jurnal Manajemen Bisnis, 17.2 (2020), 287–97

Silalahi, Purnama Ramadani, Khairina Tambunan, and Tryana Ramadhany Batubara, 'Dampak Penggunaan QRIS Terhadap Kepuasan Konsumen Sebagai Alat Transaksi', ULIL ALBAB: Jurnal Ilmiah Multidisiplin, 1.2 (2022), 125

Undang-Undang Republik Indonesia Nomor 20 Tahun, 'Undang-Undang Republik Indonesia Nomor 20 Tahun 2008', 1, 2008

Valeria, Felice, and Treviliana Eka Putri, " Cashless Society " Di Indonesia : Risiko Dan Tantangan, Center For Digital, 2020

Zuchri Abdussamad, Metode Penelitian Kualitatif, 2020, XXI, http://journal.um-surabaya.ac.id/index.php/JKM/article/view/2203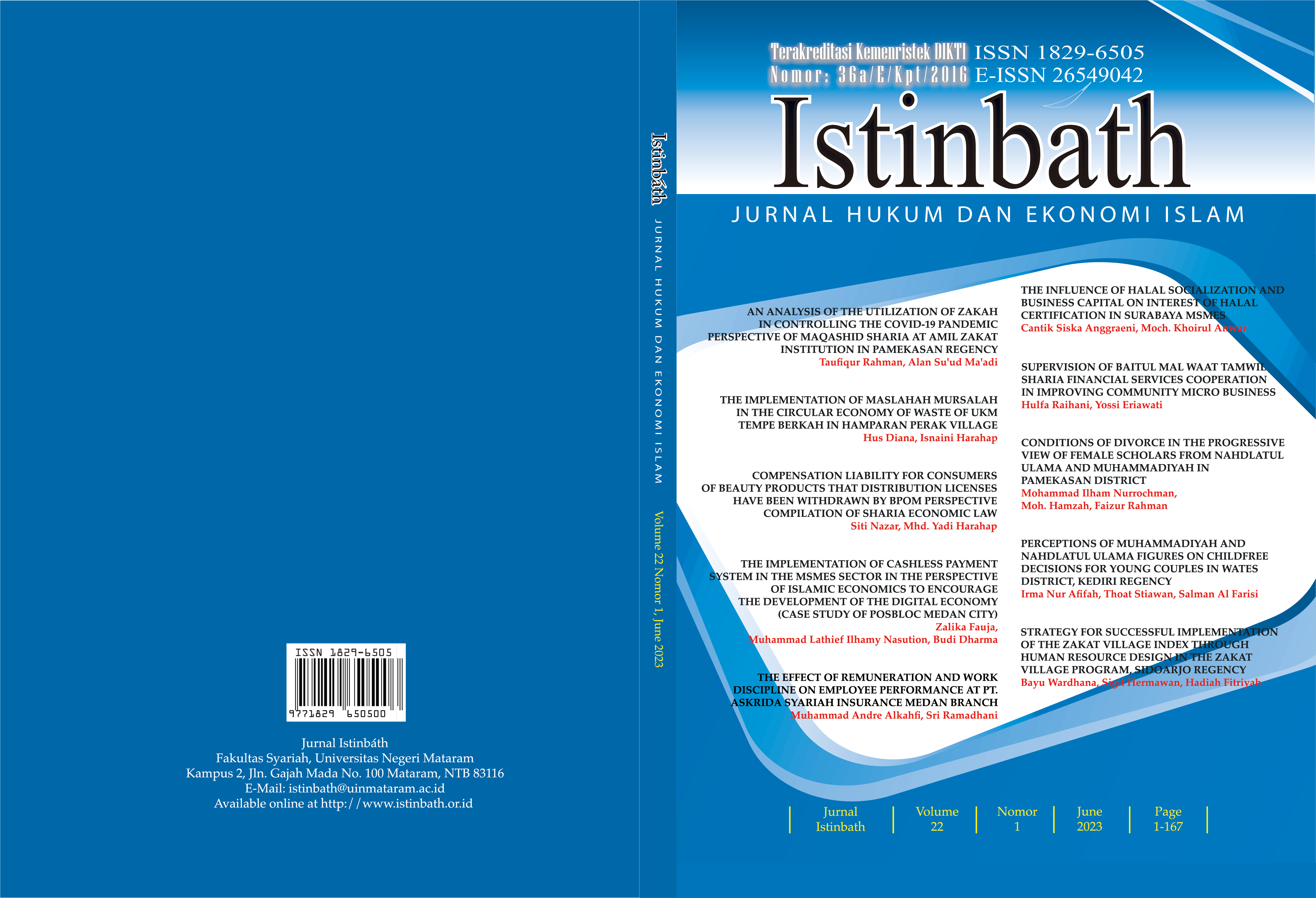 Downloads