THE IMPLEMENTATION OF MASLAHAH MURSALAH IN THE CIRCULAR ECONOMY OF WASTE OF UKM TEMPE BERKAH IN HAMPARAN PERAK VILLAGE
Keywords:
maslahah mursalah, circular economy, ukm waste
Abstract
This study aims to implement maslahah mursalah in the Circular Economy of UKM Tempe Berkah waste in Hamparan Perak Village by focusing on 3 elements in it, namely hifdzu an-nafs (care of the soul), hifdzu al-mal (maintenance of assets) and hifdzu al-bi'ah (maintenance of environment). This study used a descriptive qualitative research method, with primary and secondary data sources used as data sources. Data collection techniques were used in the form of interviews, observation, and direct surveys. In addition, data collection techniques were also obtained from several selected sources as additional information in this study. The results of the study showed that the implementation of Maslahah Mursalah in the Circular Economy of UKM Tempe Berkah, Hamparan Perak in the element of hifdzu an-nafs (care of the soul) can provide comfort and maintain health for employees, the community, and the surrounding environment from the dangers of pollution. And able to help the community in meeting its basic needs. Then, the implementation of Maslahah Mursalah on the Circular Economy of waste of UKM Tempe Berkah in Hamparan Perak Village in the element of hifdzu al-mal (maintenance of assets), where UKM Tempe Berkah obtains their assets in a good way through buying and selling, using the assets following sharia and there is no element of appropriation other people's assets because they can provide appropriate salaries to their employees so that no one feels abused. And the implementation of Maslahah Mursalah in the Circular Economy of UKM Tempe Berkah's waste in Hamparan Perak Village in the element of hifdzu al-bi'ah (environmental care), namely Tempe Berkah UKM can minimize environmental pollution by managing and utilizing its waste, both solid waste and liquid waste, so as not to cause damage to society and the environment.
References
Aji, Ahmad Mukri. "Pandangan Al-Ghazali Tentang Maslahah Mursalah." Jurnal Ahkam 4, No. 08 (2019).

Alhawari, Omar, Usama Awan, M Khurrum S Bhutta, and M Ali Ülkü. "Insights from Circular Economy Literature: A Review of Extant Definitions and Unravelling Paths to Future Research." Sustainability 13, no. 2 (2021): 859.

Ariani, Zaenafi, S Nurjannah, dan Nur Fitri Hidayanti. "Pola Scale Up Bisnis Sampah Berbasis Al-Maqasid Al-Syariah di Bank Sampah Induk Regional Bintang Sejahtera." istinbath 20, no. 2 (2021): 296–314.

Avdeeva, Elena, Tatiana Davydova, Tatyana Makeeva, and Alina Korovkina. "Conceptual Features of the Circular Economy and the Possibilities of Its Formation Using Smart Systems," 244:10012. EDP Sciences, 2021.

Boorová, Brigita. "Circular Economy as a Way of Sustainable Production and Consumption," 83:01004. EDP Sciences, 2020.

Fadli, Muhammad Rijal. "Memahami Desain Metode Penelitian Kualitatif." Humanika, Kajian Ilmiah Mata Kuliah Umum 21, no. 1 (2021): 33–54.

Fariana, Andi, dan Sufiarina Sufiarina. "JUSTICE (AL MASHLAHAH) FOR THE ECONOMIC DIMENSION." istinbath 18, No. 2 (2019).

Hadi, Abdul, and Hadi Peristiwo. "Konsep Al Maslahah Al Mursalah Dalam Perspektif Ekonomi Pada Era Revolusi Industri 4.0." Al Ahkam 15, no. 2 (2019): 59–68.

Haniyah, Nilna Fajral Wildati. "Analisis Maslahah Mursalah Pada Pengelolaan Limbah Industri Tahu UD. HUA Desa Tropodo Krian Sidoarjo," 2020.

Hartati, Yuniar Sri. "Analisis Ketimpangan Ekonomi Di Provinsi Papua." Jurnal Ekonomi Dan Bisnis 14, no. 2 (2022): 19–29.

Hasil wawancara dengan Bapak Khairul Mijan Selaku Pemilik UKM Tempe Berkah, 09 Desember 2022.

Hasil wawancara dengan Ibu Ridha Gania Selaku Karyawan UKM Tempe Berkah, 10 Desember 2022.

Hasil wawancara dengan Ibu Adilla Selaku Masyarakat Desa Hamparan Perak, 10 Desember 2022.

Khutub, Muhammad. "Ekonomi Syariah Dan Lingkungan Hidup (Studi Analisis Fatwa DSN-MUI Tentang Pasar Modal Dan Pedoman Umum Penerapan Prinsip Syariah Di Bidang Pasar Modal)," 2017.

La Banudi, Penulis, and Penulis Imanuddin. "Sosiologi Dan Antropologi Gizi." Forum Ilmiah Kesehatan (FORIKES), 2017.

Lajnah Pentashihan Mushaf Al-Qur'an. "Quran Kemenag" diakses dari https://quran.kemenag.go.id/ pada tanggal 01 Februari 2023.

Latif, Amir. "Potensi Pengelolaan Limbah Ternak Sapi Berbasis Circular Economy Di Kabupaten Bandung Untuk Mendukung Pembangunan Berkelanjutan." Jurnal Syntax Fusion 2, no. 11 (2022): 808–17.

Nurafifah, Nisrina, Avi Marlina, and Rachmadi Nugroho. "Strategi Circular Economy Untuk Organisasi Ruang Sehat Pada Pasar Produksi Pangan Di Surakarta." Senthong 4, no. 1 (2021).

Qorib, Ahmad, and Isnaini Harahap. "Penerapan Maslahah Mursalah Dalam Ekonomi Islam." Journal Analytica Islamica 5, No. 1 (2016): 55–80.

Sari, Diana Puspita, Sri Hartini, Fariez Alkaisi, and Teuku Reyhan Naufal. "Sustainable Manufacturing Dan Circular Economy: A Systematic Literature Review." J@ Ti Undip: Jurnal Teknik Industri 17, no. 3 (n.d.): 191–201.

Sistem Informasi Sampah Nasional (SIPSN). "Capaian Kinerja Pengelolaan Sampah" diakses dari https://sipsn.menlhk.go.id/sipsn/ pada tanggal 15 Januari 2023.

Sunarsih, Lilis Endang. Penanggulangan Limbah. Deepublish, 2018.

Ulum, Bahrul. "Analisis Pengelolaan Limbah Pabrik Tahu Dalam Perspektif Produksi Islam Di Desa Teja Timur Kecamatan Pamekasan Kabupaten Pamekasan," 2021.

Widodo, Dyah, Sonny Kristianto, Andi Susilawaty, Rakhmad Armus, Mila Sari, Muhammad Chaerul, Siti Nurjanah Ahmad, Darwin Damanik, Efbertias Sitorus, and Ismail Marzuki. Ekologi Dan Ilmu Lingkungan. Yayasan Kita Menulis, 2021.

Windraswara, Rudatin, and Dyah Ayu Bunga Prihastuti. "Analisis Potensi Reduksi Sampah Rumah Tangga Untuk Peningkatan Kualitas Kesehatan Lingkungan." Unnes Journal of Public Health 6, No. 2 (2017): 123–30.

Yoga, Prasetyo. "Tinjauan Siyasah Dusturiah Terhadap Implementasi Peraturan Daerah Lampung Tengah No 13 Tahun 2012 Pasal 6 Ayat 1 Tentang Pengelolaan Sampah (Studi Di Perumahan Kopkar Dwi Karya Lempuyang Bandar Kecamatan Way Pengubuan)," 2022.

Yuliana, Lingga. "Potensi Gerakan Anti Food Waste Dalam Penguatan Perekonomian UMKM." Efektor 9, no. 2 (2022): 286–95.

Yuliana, Lingga, Ida Trigani, and Wulan Aditya Putri. "Analisis Manajemen Perubahan Terhadap Kinerja Organisasi Pada PT Solusi Bangun Indonesia Tbk." Jurnal Bisnis Terapan 5, no. 1 (2021): 47–56.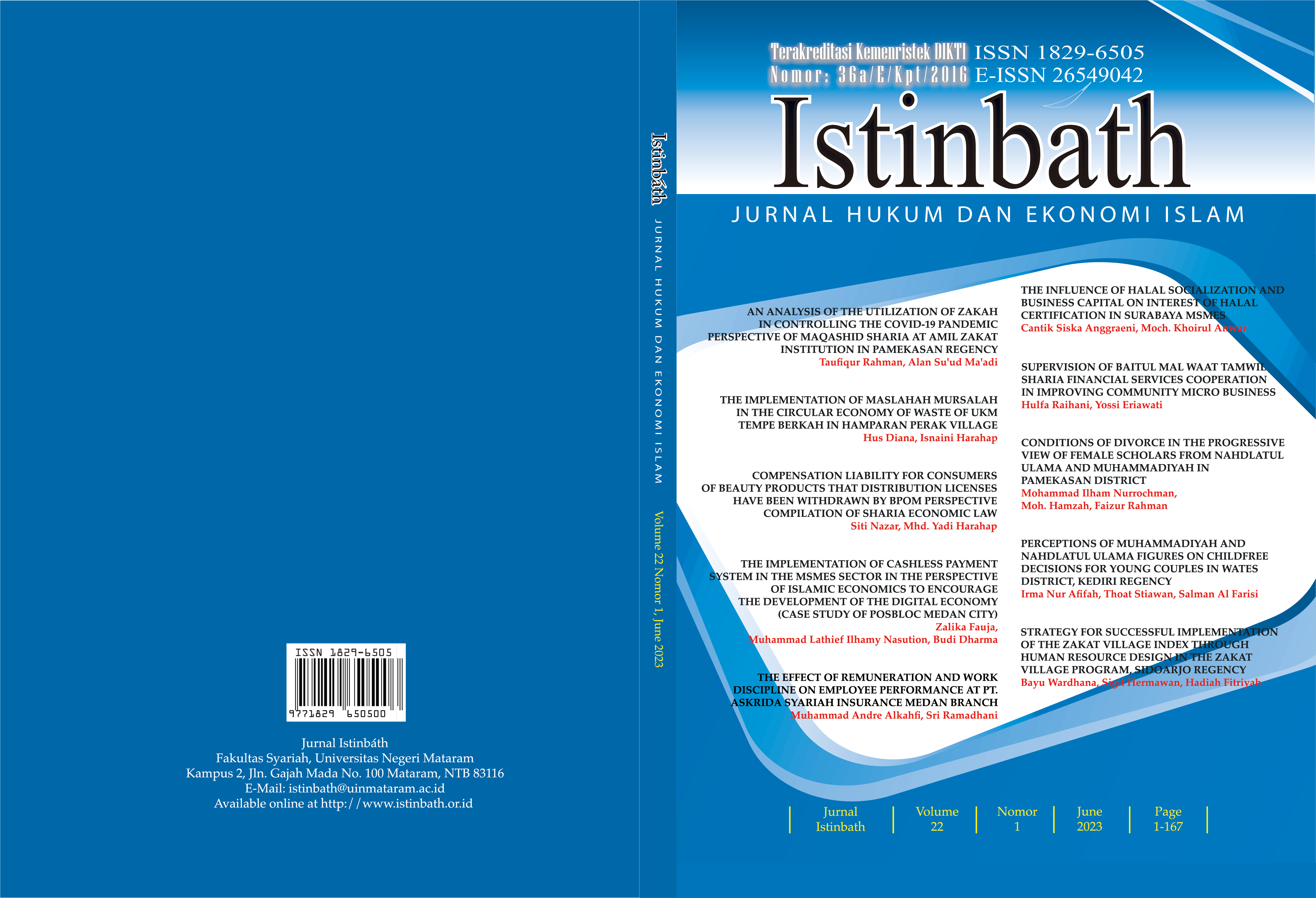 Downloads