SUPERVISION OF BAITUL MAL WAAT TAMWIL SHARIA FINANCIAL SERVICES COOPERATION IN IMPROVING COMMUNITY MICRO BUSINESS
Keywords:
management, supervision, supervision, baitul mal wattamwil islamic financial services cooperative, micro enterprises
Abstract
Constraints in implementing financing and insufficient cash to meet the needs of KJKS BMT customers in developing their micro-businesses in the Lubuk Lintah community, Padang City, are the background of this research. The cause of the cash shortage is due to problem loans. This study used descriptive qualitative method. Based on the results of research on KJKS BMT, Lubuk Leetah Village, it was found: (1) Determination of monitoring and measurement tools (standards) for improving community micro businesses in Lubuk Leetah Village, Kuranji District. According to the measuring tool (standard) developed by the Padang City Cooperative Service for KJKS BMT Lubuk Lintah Village, namely evaluating by looking at and identifying problems in developing the implementation of the plan, includes several performance benchmarks, including: number of project sites, investment funds, non-performing loans , Revenue and Membership. (2) Evaluation of KJKS BMT supervision to improve community micro businesses in Lubuk Lintah Village. The assessment was carried out under the guidance of KJKS BMT Lubuk Lintah Sub- District for the progress of micro-enterprises in the Lubuk Lintah community, before the RAT was implemented. RAT discusses how to deal with financing issues, what is the income at the end of the year. (3) Carry out corrective actions to improve supervision of KJKS BMT in improving community micro businesses in Lubuk Lintah Village. Take corrective actions so that KJKS BMT Lubuk Lintah Subdistrict does not continue to make deviations in its activities.
References
A. Didik, Supadie, A, Ekonomi Syariah (Semarang: Pustaka Rizki Putra, 2013)

Amanda, Helles, 'Analisis Manajemen Koperasi Dalam Meningkatkan Kesejahteraan Anggota (Studi Kasus Pada Koperasi Insan Utama)', Sintesa Stie Sebelas April Sumedang, 10.1 (2020), 25–34, https://ejournal.stie11april-sumedang.ac.id/ojs/index.php/ejournalstiesas/article/view/73

Halim, Abdul, 'Pengaruh Pertumbuhan Usaha Mikro, Kecil Dan Menengah Terhadap Pertumbuhan Ekonomi Kabupaten Mamuju', Jurnal Ilmiah Ekonomi Pembangunan, 1.2 (2020), 157–72, https://stiemmamuju.e-journal.id/GJIEP/article/view/39

Hasibuan, Manajemen Sumber Daya Manusia (Jakarta: PT Bumi Aksara, 2014)

M. Zaky Mubarak Lubis, Netta Agusti, 'Sumber Daya Manusia Koperasi Jasa Keuangan Syariah(Kjks) Di Kota Padang: Dilema Antara Pengelolaan Danpemahaman Konsep', 2016, 1–23

Masruroh, N, 'Pemaknaan Halal Antara Simbol Dan Bentuk Implementasi Keagamaan Oleh Pemilik Umkm Pasca Pemberlakuan Uu No. 33 Tahun 2014', Istinbath, 21.2 (2022), 351–73, http://istinbath.or.id/index.php/ijhi/article/view/572

Praktik, Manajemen, and Pembiayaan Murabahah, 'Istinbáth', 21.2 (2022), 416–36

Putra, A.A.P., S.N. Imaniyati, and N. Nurhasanah, 'Al-Murabahah Li Al-Amir Bi Al-Syira: Studi Kasus Pemikiran Yusuf Al-Qaradhawi Dan Relevansinya Dengan Fatwa DSN- MUI', Istinbáth Jurnal Hukum Dan Ekonomi Islam, 20.2 (2021), 262–95

Ridwan, M, Manajemen Baitul Mal Wa Tamwil (BMT (Yogyakarta: UII Press, 2004) Rika, Novita, 'Pengelola KJKS BMT' (Padang)

Rosady, Ruslam, Metode Penelitian (Jakarta: PT Raja Grafindo Persada, 2003) Saebani, Metode Penelitian (Bandung: pustaka setia, 2008)

Siagian, Fungsi-Fungsi Manajemen (Jakarta: PT Bumi Aksara, 2007)

Suharsini, Ari, Kunto, Evaluasi Pendidikan (Jakarta: Bumi Aksara, 2004)

Sumandi, Suryabrata, Metode Penelitian (Jakarta: PT Raja Grafindo Persada, 2005)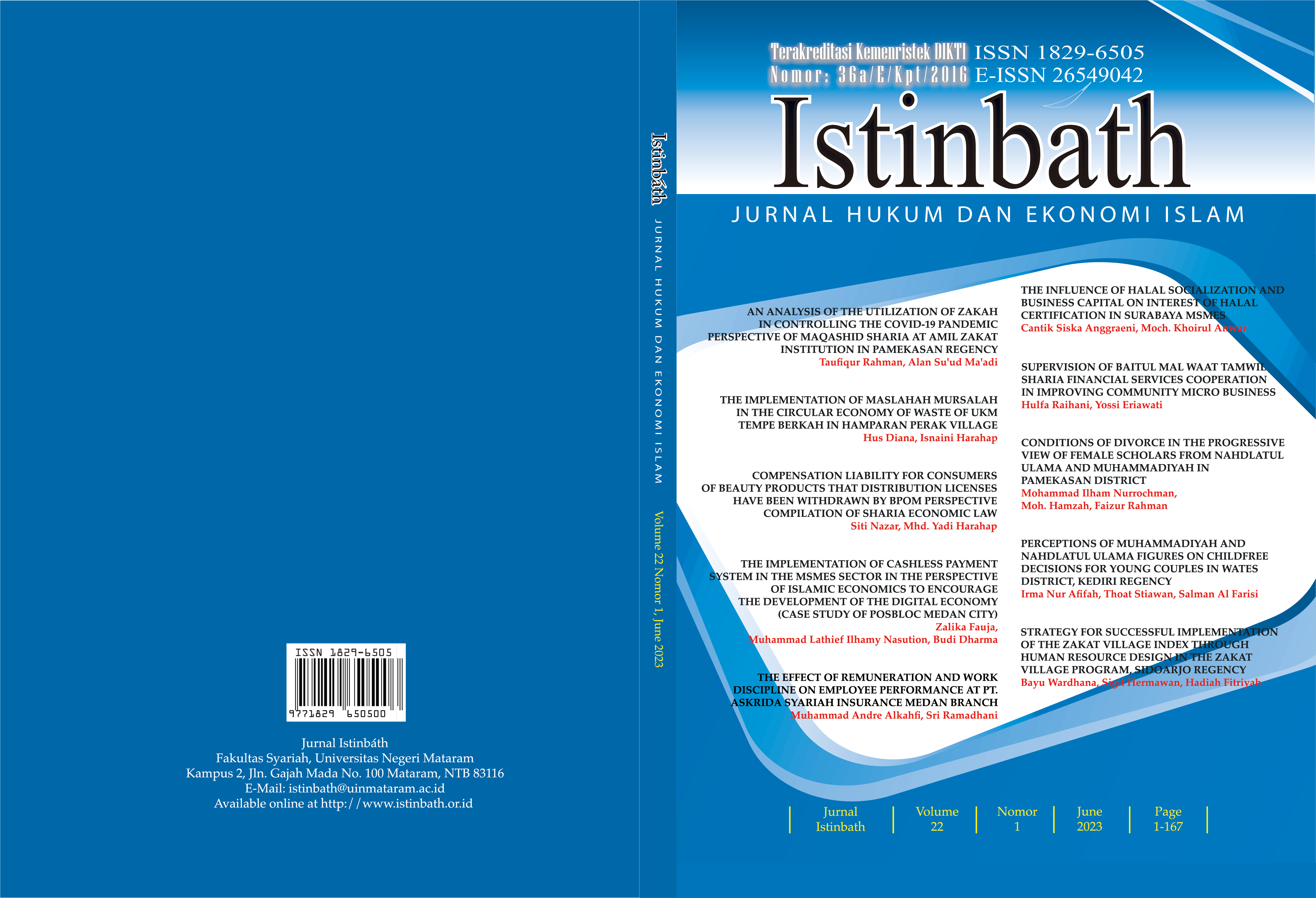 Downloads